Optimerix
Optimerix is a mobile app tailored for the Romanian consumers. It helps Romanian consumers to find the best price for their prescriptions.
Uncovering best options in patients' prescription
Do you know the difference between the DCI ( INN - international nonproprietary name) and the commercial name of a pharmaceutical drug? Most people don't. So when they get a prescription from their doctor ( that uses only DCI) , they rely only on the pharamacist's recommendations or previous experience to choose a certain drug. Optimetrix is here to change all that
Company Info
A small startup founded by a group of people with vast experience in the pharmaceutical and medical fields and one ambitious goal: to mitigate the lack of information for the general public.
Industry: Pharmaceutical
Headquarters: Brasov, Romania
Founded in 2020
Project Toolkit: Angular, Ionic, .Net, Drupal, Sketch, Invision
Background color
optimerix-red
Empowering patients
Optimerix lets users know what options they have for purchasing their prescription: what is the cheapest combination of drugs, what are the drugs that are frequently bought, all by scanning the QR code printed on their RX.

Using a simple interface with a small number of features (to compensate for the large number of details involved), the users can access some options in a gradual process, to create his/her ideal RX. Based on this, they can find the closest pharmacy that has all the medicine chosen in stock.
Design
From place to place, users will encounter Optimerix, the mascot of the application that resembles a Gallic druid. Its role is to guide them in some of the key points of the application and also to bring some color to the user experience as a whole.

Top
default
Layout
The layout uses discreet references to the space of an old pharmacy - simplicity, sobriety, a muted color palette, the feeling of order and tranquility.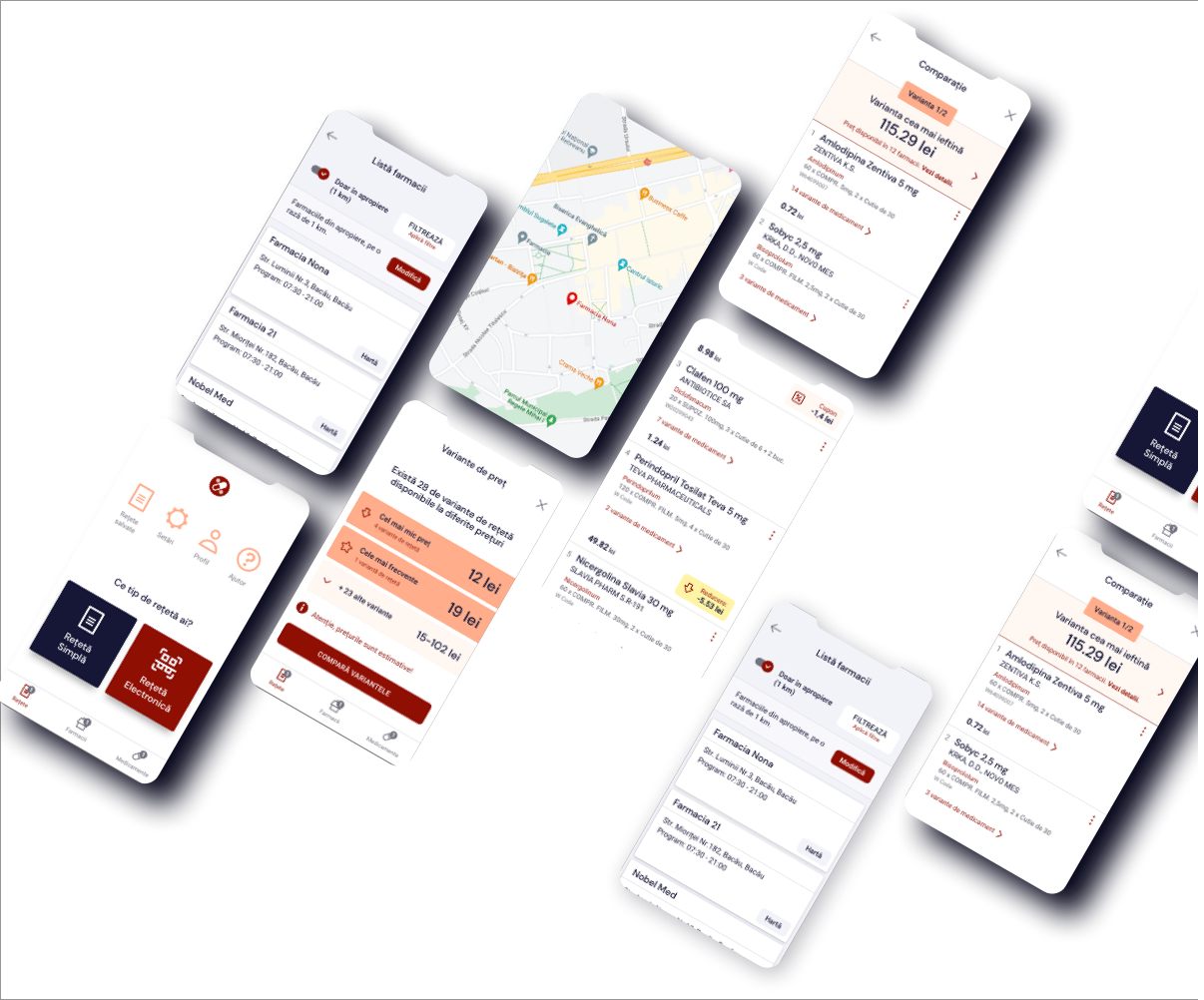 ImageWithBackground
Custom Features
To finish off, we developed other side projects as well. A web app to allow the administration and to provide access to the application for pharmacies and drug distributors, and a presentation site, all under the branding guidelines, custom-developed for the project, in-house.
default